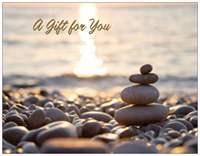 $

68.00 - On Sale
MASSAGE OFFERS CUSTOM-MADE GIFTS FOR MEN AND WOMEN!
60 minute MASSAGE GIFT CARDS starting at $68
To purchase a gift choose between and use the drop down menu below:
10% Off Regular Prices
~ Basic Massage $68
~ Holistic Massage $77
~ Shiatsu or Thai Massage $77
~ Add 30 minutes only $29
LET THEM CHOOSE...
~ Add *Essential Enhancer
Not to be combined with any other discounts or special offers
Pay by Credit or Debit Card securely through PayPal. You will receive an email confirmation of your purchase.
Gift Cards can be picked up or mailed. Please email us with instructions for delivery. dorothy@seastonesnatural.com
Share the HEALTH and WELLNESS benefits of massage!
Contact us directly to schedule your appointment. (203) 481-7866